Speculation Surrounds Congressional Corruption Scandal

Assistant U.S. Attorney General Alice Fisher's pronouncement on Jan. 3, 2005 -- following the indictment of Republican lobbyist Jack Abramoff -- that "government officials and government action are not for sale" brought to the public's eye a large-scale Justice Department investigation focused on the alleged corruption of Washington lawmakers.
Though few outside the department know the details of the case, what is known is that along with his guilty plea on charges of fraud, tax evasion and conspiracy, Abramoff became the key witness in a widening probe into allegations that members of Congress accepted money and other gifts from Abramoff and his associates in exchange for votes.
The investigation threatens to ensnare several U.S. lawmakers and their aides, rattle the Republican and, possibly, Democratic parties and change the way lobbyists and lawmakers do business in Washington.
"Lawful lobbying does not include paying a public official a personal benefit with the understanding -- explicit or implicit -- that a certain official act will occur," Fisher said at the Abramoff news conference. "That's not lobbying; that's a crime."
Fisher and her colleagues in the Public Integrity Division of the Justice Department's criminal division are running the investigation. Though she has only been in her position since August, colleagues say if anyone is tough enough to bring down corrupt Washington officials, it is the former criminal attorney, who previously worked on the government's Whitewater Development investigation during the Clinton administration.
"She's not some pushover; she's a tough lawyer," Eric Bernthal, a former colleague of Fisher's, told the Wall Street Journal.
Before President Bush appointed her to head the criminal division last year, Fisher, a native of Kentucky, served as the division's second in command under then chief and current Homeland Security Secretary Michael Chertoff. In that role, she helped set the Bush administration's post-9/11 terrorism policy and earned her stripes as an anti-corporate fraud proponent, overseeing the department's Enron investigation.
Since then, Fisher has said the priority of the criminal division, whose primary role is public corruption, election fraud and campaign finance fraud, will be "ensuring the integrity of the government."
"The Justice Department will aggressively investigate and prosecute these types of cases which have a devastating impact on the public's trust of government. We will not shy away from that responsibility no matter where the trail leads," Fisher has said.
The origin of the corruption investigation dates back some 20 months according to most media reports, though Justice Department officials will not confirm exactly when or why it began.
Many believe a probe into Abramoff's dealings with Indian tribes with gambling operations shined a spotlight on the former Hollywood producer turned K Street whiz.
In September 2004, Abramoff, a lobbyist for tribes with operations in Mississippi, Louisiana, Michigan and Texas, refused to answer Senate Indian Affairs Committee questions on allegations that he and his partner Michael Scanlon, formerly a top aide to Rep. Tom DeLay, R-Texas, fleeced the tribes out of millions, the Associated Press reported.
The next year, a Miami federal grand jury indicted Abramoff and his associate Adam Kidan on fraud charges. Though Abramoff pleaded innocent to the charges, he later pleaded guilty to mail fraud, conspiracy and tax evasion in a Washington federal court case and to fraud and conspiracy charges in Florida.
Kidan and Scanlon separately pleaded guilty in the Washington and Florida fraud cases, Scanlon to charges he tried to bribe public officials.
A third associate, David Safavian, formerly head of the White House Office of Management and Budget, also was indicted on FBI charges that he lied about his involvement with Abramoff.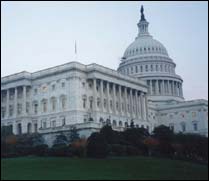 As reports surfaced about the indictments, members of Congress rushed to distance themselves from the man who had helped fund so many of their re-election efforts. Several congressmen immediately returned or gave away campaign donations. House Speaker Dennis Hastert, R-Ill., and DeLay said they would donate Abramoff contributions to charity. And President Bush, for whom Abramoff had raised more than $100,000, said he too would donate some $6,000 of the money.
While media reports speculate dozens of lawmakers and their aides may face indictment -- a "gross exaggeration," according to a spokesman for the Justice Department's criminal division -- some news organizations quote anonymous sources within the department who claim five key lawmakers and their staffers are under scrutiny.
The five lawmakers -- Sens. Conrad Burns, R-Mt., Byron Dorgan, D-N.D., Senate Minority Leader Harry Reid, D-Nev., And Reps. J.D. Hayworth, R-Ariz., And Bob Ney, R-Ohio -- deny wrongdoing.
Reid denies ever meeting Abramoff. Burns has said he returned all Abramoff contributions. Dorgan also said he has returned some $67,000 in money donated from Indian tribes tied to Abramoff, the Washington Times recently reported. And Ney, believed to be the official named as Representative No. 1 in the Justice Department's plea deal with Abramoff, has said he too donated some $6,500 in contributions.
The Justice Department has refused to confirm the names of any officials under scrutiny.
"[I]n a case like this the government doesn't really have to show all of its cards and in fact might not want to simply because they haven't issued target letters, the official notification that you're under the scrutiny of the FBI, to members of Congress who might also be involved," BusinessWeek's Eamon Javers told the NewsHour with Jim Lehrer on Jan. 3, 2006. "And they don't want to tip off those members that they're looking at their activities over the past who knows how many years."
The agency did say the case involves several federal agencies, evidence of the scale and severity of the probe. How long the investigation may continue, however, and when the public can expect more indictments is "impossible to predict," a department spokesman said. In the meantime, ripples in the Washington political pool already are being felt.
DeLay has said he would not seek reelection as House majority leader. In January 2006, Ney quit as chairman of the House Administration Committee after government sources leaked his identity as Representative No. 1. Both men say they expect to be cleared of suspicion as the investigation moves forward.
Both Democrats and Republicans have announced competing bills aimed at reforming lobbying practices. Each side has blamed the other for what has been termed Washington's "culture of corruption" as the Justice Department probe unfolds.
---
Lobbyist Jack Abramoff www.pbs.or
Former lobbyist Jack Abramoff, an almost larger-than-life figure in Washington, D.C. circles, is at the center of a Justice Department investigation into possible corruption by members of Congress and their aides.
On Jan. 3, 2006, Abramoff pleaded guilty to charges of conspiracy, mail fraud and tax evasion related to defrauding four Native American tribes out of millions of dollars, and agreed to cooperate with federal prosecutors. He admitted to providing numerous gifts, including campaign contributions, free meals and a golf trip to Scotland, to a congressman identified in press reports as Ohio Republican Bob Ney.
According to Assistant Attorney General Alice Fisher, "Abramoff had a congressman insert statements in the Congressional Record, had a congressman endorse a wireless telephone contract for the House of Representatives, had a congressman agree to seek passage of legislation to help Abramoff's clients. Government officials and government action are not for sale."
Abramoff's plea agreement spared him a maximum jail term of 30 years. Instead he faces up to 11 years in prison and must pay $26.7 million in restitution, Fisher said.
"Words can never express my sorrow and profound regret," he told U.S. District Court Judge Ellen Segal Huvelle, quoted CNN. "Nor can they express my sadness and regret for my conduct. ... I ask for forgiveness and redemption from (the) Almighty."
Abramoff was born in Atlantic City, N.J. on Feb. 28, 1958. He graduated from Brandeis University in 1981 and the Georgetown University Law Center. He chaired the College Republican National Committee from 1981-85. He also was involved in anti-communist efforts as a member of Citizens for America.
Abramoff had a stint as a movie producer in Hollywood, and was president of Regency Entertainment Group from 1986-94.
He became a lobbyist for Greenberg Traurig in 2001 and remained there until 2004.
Abramoff was closely associated with the K Street Project, initiated by his reported friend and former House majority leader, Tom DeLay, R-Texas. The program was designed to push corporations and trade associations to hire more Republican lobbyists.