History of Washington Scandals

The investigation into lobbyist Jack Abramoff and others is the latest in a series of Washington corruption scandals that have rocked the nation's capital.

"My own judgment is that this could be the biggest [lobbying scandal] that we have seen in our lifetimes," congressional scholar Norman Ornstein has said. "This may involve a more institutional corruption scheme that could have great resonance."
As in the past, revelations of indiscretions and possible corruption have prompted political parties to unveil reform packages. The stories of influence peddling and the calls for reform are part of an occasional cycle of corruption scandals that have plagued Washington since the close of the Civil War.
Crédit Mobilier
Up until the late 19th century, the nation's capital was still a sleepy, southern town where congressmen lived in boarding houses that doubled as remote offices. With their families back in their home districts, and few cultural outlets in the federal city, legislators often loitered in clubs and hotel lobbies for social gatherings.
It was during this time that President Ulysses S. Grant coined the term "lobbying" to refer to the representatives of corporate interest groups who would mingle among lawmakers. But these cozy relationships soon led to scandal.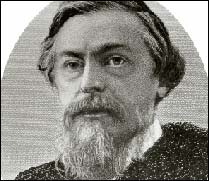 In 1872, the New York Sun revealed that several influential congressmen were involved in a government contracting scheme with a dummy railroad firm, Crédit Mobilier. Thomas Durant, a vice president of the Union Pacific Railroad, created Crédit Mobilier of America as a front for increasing its shareholders' profits. In 1864, the company was given a no-bid contract to build a 667-mile stretch of the Transcontinental Railroad, with much of the cost being paid for by federal subsidies.
All of this was thanks to the work of Massachusetts Republican Rep. Oakland Ames. Ames had gained influence as a key member of the committee devoted to laying down railroad track during the Civil War. In exchange for support of giving contracts and subsidies to Crédit Mobilier, Ames sold shares to his fellow congressmen at prices significantly below market value. When Crédit Mobilier's profits skyrocketed during the railroad boom, executives and congressmen alike reaped millions of dollars in profits. It is believed that Crédit Mobilier received $47 million in contracts, turning $21 million in profit.
When the Sun broke the story on the eve of the 1872 election, House Speaker James Blaine, R-Maine, directed a committee of 13 congressmen to investigate the matter. Based on their findings, the House of Representatives censured Ames and Whig James Brooks of New York. Other implicated politicians included outgoing Vice President Schuyler Colfax, incoming Vice President Henry Wilson, and then-congressman and future President James Garfield.
In the wake of the Crédit Mobilier scandal, among other smaller controversies, the House passed its first laws regulating lobbying. Under the rules passed in 1876, lobbyists had to register with the clerk of the House. Three years later, in order to prevent lobbyists from posing as journalists, members of the press had to register as well.
Teapot Dome: Corruption in the executive branch
Although Congress attempted to reform lobbying, the growing voice of people who termed themselves "progressives" in the country demanded more and expressed deep misgivings about those seeking to influence legislation.
"Washington has seldom seen so numerous, so industrious, or so insidious a body [as lobbyists]," said President Woodrow Wilson in 1913.
Yet it was Wilson's successor, Warren Harding, who suffered from the next major bribery scandal. The Teapot Dome scandal implicated Secretary of the Interior Albert Fall and ruined the legacy of the short-lived Harding presidency.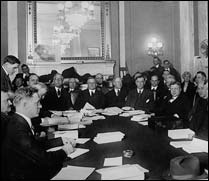 Over the course of previous administrations, the federal government established emergency petroleum reserves in Elk Hills in California and Teapot Dome in Wyoming for use by the Navy. In 1923, the Public Lands Committee of the Senate began investigating the oil reserves and discovered both had been illegally leased to oil tycoons by Fall.
Fall is believed to have received more than $300,000 in bribes, but refused to answer questions before the Senate, claiming fear of self-incrimination. E.L. Doheny of the Pan-American Oil Co. confessed before the committee that he had given Fall a $100,000 "loan," among other gifts, for rights to the Elk Hills reserves. Harry Sinclair of Sinclair (Mammoth) Oil was also implicated in the scandal, but declined to cooperate, was charged with contempt and fined $100,000.
Fall continued to fight prosecution until 1929, when he was also fined $100,000 and spent a year in jail.
At the time, Democrats believed that they could take political advantage of the scandal, but Doheny's testimony hurt them as well. A significant figure in the Democratic Party in California, Doheny implicated several Wilson administration officials in his appearance before Congress. Doheny also admitted to paying the presumed presidential candidate for the 1924 election, William McAdoo, payments totaling $250,000.
Abscam and the Keating Five
In 1978, the Federal Bureau of Investigation embarked on a sting operation, labeled Abscam, in which agents posed as Middle Eastern businessmen offering bribes to senators and congressmen. The FBI targeted 31 government officials in total during the operation, including state officials in New Jersey and Pennsylvania.
Six congressmen, Democrats John Jenrette of South Carolina, Raymond Lederer of Pennsylvania, Michael Myers of Pennsylvania, John Murphy of New York and Frank Thompson of New Jersey, and Republican Richard Kelly of Florida, and one senator, Democrat Harrison Williams of New Jersey, were convicted of bribery and conspiracy charges in 1981.
Democratic Rep. John Murtha of Pennsylvania also was indicted but not prosecuted because he gave evidence against Murphy and Thompson. Only one lawmaker, Republican Sen. Larry Pressler of South Dakota, refused to take the bribe, saying at the time, "Wait a minute, what you are suggesting may be illegal."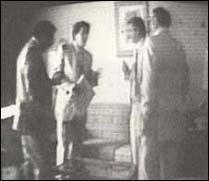 Kelly initially had the conviction overturned when a judge ruled the sting amounted to illegal entrapment, but in 1984, a higher court sentenced Kelly to 13 months in prison. Kelly was famously caught on videotape packing his pockets with $25,000 in cash, asking the undercover agents, "Does it show?"
But as opposed to Abscam tarnishing Congress, it was the FBI that dealt with much of the long-term scrutiny as investigations into their probe brought up the entrapment issue. After Abscam, there have been no published accounts of efforts to catch lawmakers in the act, rather the focus became investigating wrongdoing after the act.
The Keating Five scandal from 1989 implicated five senators in another corruption probe. Democrats Dennis DeConcini of Arizona, Donald Riegle of Michigan, John Glenn of Ohio and Alan Cranston of California, and Republican John McCain of Arizona, were accused of strong-arming federal officials to back off their investigation of Charles Keating, former chairman of the Lincoln Savings and Loan association. In exchange, the senators reportedly received close to $1.3 million in campaign contributions.
The Senate Ethics Committee concluded that Glenn and McCain's involvement in the scheme was minimal and dropped the charges against them. In August 1991, the committee ruled that the other three senators had acted improperly in interfering with the Federal Home Loan Banking Board's investigation.
DeConcini and Riegle did not run for re-election in 1994 and were succeeded by Republican Sens. John Kyl and Spencer Abraham.
House banking scandal
The more recent significant corruption scandals have centered on abuses of power, as opposed to the bribery, influence-peddling controversies of the past.
In 1992, many House members were suspected of bouncing checks from accounts they held at the so-called "House Bank" -- a loose operation that allowed member of Congress to cash their checks but kept shoddy records and often were quite delayed in recording deposits or withdrawals.
Although the lawmakers had broken no laws and many did not even know they were bouncing checks, several took advantage of the bank system and many voters viewed the scandal as a blatant abuse of power.
Of the 296 sitting representatives and 59 former members who had overdrafted their personal accounts in the preceding 39 months, the House Ethics Committee released a list of the 24 worst abusers. Twenty were Democrats, although Republican Rep. Tommy Robinson of Arkansas was the worse offender, with 996 overdrafts.
Congressional Democrats attempted to explain that the scandal was a problem with the banking system, not their party.
Conservative columnist David Gergen said on the NewsHour at the time, "[The Democrats] let it get out of control. That's the critical charge against the Democrats. When you're in power too long, you become arrogant."
Republican leaders used the scandal to accuse all Democrats of corruption and abuse of power. Republican Minority Whip Newt Gingrich of Georgia would make reforming Congress part of his Republican revolution of 1994 that gave his party a net gain of 54 seats in Congress and the GOP control of the House for the first time in 40 years.
With the latest scandal, party leaders are rushing to reform the institution and its rules.
---
Jan. 6, 2006
Abramoff Case Draws Deeper Look into Lobbying
The guilty plea of Republican lobbyist Jack Abramoff has thrown the spotlight on lobbying in Washington.
Jan. 4, 2006
Abramoff Pleads Guilty in Miami
A day after pleading guilty on three charges in a deal with prosecutors, former Republican lobbyist Jack Abramoff pleaded guilty in Miami to federal conspiracy and wire fraud charges.
Jan. 3, 2006
GOP Lobbyist Abramoff Pleads Guilty
Republican lobbyist Jack Abramoff pleaded guilty to conspiracy, fraud and tax evasion, and agreed to cooperate in a probe that may implicate members of Congress.
Dec. 30, 2005
Justice Department Investigates Possible Corruption
A reporter discusses the background of Jack Abramoff, a Washington lobbyist at the center of a far-reaching congressional corruption scandal.
Nov. 21, 2005
Former DeLay Aid Enters Guilty Plea
Michael Scanlon, a former press aid to Rep. Tom DeLay and former partner to lobbyist Jack Abramoff, pleaded guilty in a government investigation on conspiring to bribe public officials. Two reporters discuss the case.