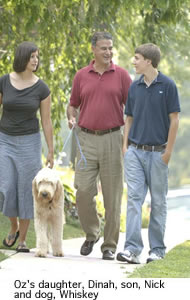 I was brought up to believe that it is important to make a difference in our communities and our country. I still believe in what President John F. Kennedy said: "Ask not what your country can do for you, but what you can do for your country."
From the time I graduated from college, I have felt that public service can improve the lives of others. And, I believe that it is important to give back to your community. To this end, in every challenge that I have undertaken, I have tried to make a positive difference in people's lives and my community.
For the past 35 years, I have improved the lives of troubled children and their families, provided low and moderate-income housing for families in need and changed the face of juvenile corrections. I am an expert in public finance and took a leadership role in energy conservation during the last energy crisis. As a small business owner, I have created jobs and know the importance of keeping the American dream alive for future generations.
A Leader In Government Service. I began my career in public service in human services. Working in Massachusetts, I became a member of a highly innovative team that changed the face of juvenile justice by creating treatment alternatives for children in trouble. Following this work on these landmark reforms, I co-authored a report for the US Department of Justice on alternatives to incarceration for juvenile offenders.
I was active in the successful campaign of Governor Joe Brennan of Maine and served on his staff as a constituent liaison and the Governor's staff person assigned to the State Departments of Housing, Corrections, Business Regulation and the Pardons and Commutations Board. Following the late 1970's energy crisis, I was appointed Deputy Director of the State Office of Energy which developed conservation programs for the state.
An Expert in Government and Business Finance.
While in Maine, I became acutely aware of the need for low and moderate income housing for underserved families. My concern for these needs led to a position in the world of public finance where I completed single and multi-family housing financings across the country totaling more that $500 million, including several transactions in the State of Maryland. These programs helped countless working families improve the quality of their lives. Later, I advised small businesses to help them grow and realize their dreams for success. In all, I was involved in almost $1 billion in financings for state and local governments and their agencies, and public and private companies. My extensive experience in both government and business finance will make a positive difference in making our economy strong and creating jobs.
Creating Jobs.
In the early 1990's my business partner and I struck out on our own and started a small business to provide financial and strategic advice to help small and mid-size companies grow (www.bengurbryan.com). Our success in helping up-and-coming businesses make good financial decisions also led to our starting several small businesses of our own, which have resulted in creating hundreds of new jobs in the Mid-Atlantic region.
Dedicated to Public Service.
I have served as Treasurer of the Maryland Democratic Party, and was a candidate for the US Congress and a delegate to the Democratic National Convention. My interest in defense and national security issues led me to Co-Chair Americans for Strong National Security, an organization that raised money for John Kerry's campaign for President.
A Commitment to Community Service.
I feel it's important to give back to my community. To this end, I have served as a board member of several not-for-profit and community organizations including the Baltimore Parks & People Foundation, Baltimore Choral Arts Society, Trustee of Baltimore County Public Library and as president of the Children's' Chorus of Maryland.
Great Kids.
I have three children: Noah, a Captain and Harrier pilot in the U.S. Marine Corps who is currently deployed in Iraq; Dinah, a college senior, and Nick a sophomore at Towson High School.
Education.
I am a graduate of public schools in Maryland and Washington DC and received my undergraduate degree from Princeton University and a graduate degree from Cambridge University, England.
ISSUES
It's Time To Have A Plan for Getting Out Of Iraq
Like every American, I am deeply concerned with what is going on in Iraq. There is no more important issue that Congress faces than putting our sons and daughters in harms way. My campaign is about providing leadership on the tough issues that we face. To that end, I have come up with a strategy for withdrawing our troops from Iraq.
It's Time To Do Something About Health Care Costs And Providing Health Care Access to All Americans
It Is Time To Do Something About Jobs And The Economy

Average Americans feel that they are working harder and not getting ahead. Real median wages have been stagnant for decades.

Investing in Growth and Jobs

I have been a businessman. Government has an important role to play by promoting entrepreneurial growth oriented policies.

Fiscal Responsibility

As a result of the Bush Administration and Congress' fiscal irresponsibility, we now have the largest budget deficit in our nation's history.

It Is Time To Get Our Priorities Right On Homeland Security
It Is Time To Protect Social Security

Social Security is the most important program our nation has for providing economic security for our senior citizens.

Its Past Time To Fix Education

American children are falling behind children of other nations.

It's Time to Get Serious About the Environment and Energy

It is time to examine mandatory controls on greenhouse gases that cause climate change.

Crime

I started my career in the working in the criminal justice system.
---
FIFA turns down Turkish and Swiss appeals

FIFA BANS ON TURKEY AND TURKISH PLAYERS

© 2006 dpa - Deutsche Presse-Agentur
Zurich - Turkey will have to play all six designated home matches in the Euro 2008 qualifying campaign in another country and behind closed doors while Swiss player Benjamin Huggel is effectively out of the World Cup in summer, the governing football body FIFA confirmed on Friday.
FIFA imposed a six-match ban for official games on Turkey and further bans on several players and officials from Turkey and Switzerland two months ago following violent scenes after a World Cup qualifier between the two sides last November.
Players Emre Belozoglu (Turkey), Ozalan Alpay (Turkey), Benjamin Huggel (Switzerland) and assistant coach Mehmet Ozdilek (Turkey), as well as the Turkish FA appealed against the decision, but FIFA on Friday turned down the appeal.
In a statement FIFA said: 'Meeting under the chairmanship of Rafael Salguero (Guatemala), the FIFA appeal committee examined in depth the appeals...and rejected all appeals completely.
'In accordance with the FIFA Statutes, the Court of Arbitration for Sport (CAS) in Lausanne may be called upon to act as the body of final instance, once the reasoned decisions have been notified to the parties.'
In February FIFA said that Turkey must play their next six official games 500 kilometres away from the Turkish border in another member country of the European football body UEFA.
The three players were banned for six official games each, while Serkan Balci of Turkey misses the next two games.
Ozdilek was banned from football-related activities for 12 months and Swiss team physiotherapist Stephan Meyer suspended for two games.
For FIFA, friendlies are not official matches - only qualifiers and major tournament matches are viewed as such.
As a result, Turkey will have no home field advantage at all and will be without Alpay and Emre throughout their Euro 2008 qualifying campaign.
Turkey are drawn to play reigning Euro champions Greece, Bosnia- Herzegovina, Norway, Hungary, Malta and Moldova in group C of qualifying for Euro 2008.
Eintracht Frankfurt player Huggel, meanwhile, will effectively miss the World Cup in summer in Germany, unless he is nominated and Switzerland makes the final which would be their seventh game.
To make matters worse, Switzerland will also not have to play Euro qualifiers as they are co-hosting the tournament and this would mean that he would - should the Swiss fail to play more than seven games in the two tournaments, only be eligible to play official qualifying games for the national team again in 2009.
Violent scenes occurred at the end of the game between the two sides on November 16 in Istanbul.
Turkey won 4-2 but Switzerland progressed to the World Cup finals on the away goals rule, having won the first leg 2-0 the previous weekend at home.
Television footage revealed that the incidents started as both teams headed into the dressing room after the final whistle.
FIFA boss Joseph Blatter immediately called for harsh sanctions, which were handed down by FIFA's five-strong disciplinary committee, chaired by deputy chairman Salman Bin Ebrahim Al Khalifa of Bahrain, after a series of hearings shortly after the game and Monday and Tuesday.
FIFA not only imposed bans but also fines, most notably 200,000 Swiss francs (154,000 dollars, 128,500 euros) on the Turkish football federation.
The players and officials must pay a total 71,500 Swiss francs, with Huggel, Emre, Alpay and Ozdilek fined 15,000 Swiss francs each.
A PBS Documentary Makes Its Case for the Armenian Genocide, With or Without a Debate
It is impossible to debate a subject like genocide without giving offense. PBS is supposed to give offense responsibly.
And that was the idea behind a panel discussion that PBS planned to show after tonight's broadcast of "The Armenian Genocide," a documentary about the extermination of more than one million Armenians by the Turkish Ottoman Empire during World War I.
The powerful hourlong film will be shown on most of the 348 PBS affiliate stations. But nearly a third of those stations decided to cancel the follow-up discussion after an intense lobbying campaign by Armenian groups and some members of Congress.
The protesters complained that the panel of four experts, moderated by Scott Simon, host of "Weekend Edition Saturday" on NPR, included two scholars who defend the Turkish government's claim that a genocide never took place. The outrage over their inclusion was an indication of how passionately Armenians feel about the issue; they have battled for decades to draw attention to the genocide.
But the fact that so many stations caved is a measure of something else: PBS's growing vulnerability to pressure and, perhaps accordingly, the erosion of viewers' trust in public television.
The camera lends legitimacy, but as Senator Joseph R. McCarthy's performance on Edward R. Murrow's "See It Now" famously showed, it also can undermine credibility. Panel discussions in particular give people with outlandish views a hearing — and also an opportunity to expose the flaws in their arguments.
That is certainly the case with the discussion program "Armenian Genocide: Exploring the Issues." It turns out that there is only one articulate voice arguing that Armenians died not in a genocide but in a civil war between Christians and Muslims — that of Justin A. McCarthy, a history professor at the University of Louisville. His Turkish counterpart, Omer Turan, an associate professor at the Middle East Technical University in Ankara, tries ardently to back him up, but his English is not good enough to make a dent. And the two other experts, Peter Balakian, a humanities professor at Colgate University, and Taner Akcam, a visiting professor of history at the University of Minnesota and a well-known defender of human rights in Turkey, lucidly pick Mr. McCarthy's points apart.
Mr. Balakian, who is one of the experts cited in the documentary, gets the last word. "If we are going to pretend that a stateless Christian minority population, unarmed, is somehow in a capacity to kill people in an aggressive way that is tantamount to war, or civil war," Mr. Balakian says, "we're living in the realm of the absurd."
Tone and appearance on television can be as persuasive as talk. Mr. McCarthy mostly sounds condescending and defensive, while Mr. Balakian is smooth and keeps his cool.
"The Armenian Genocide " which was made by Andrew Goldberg in association with Oregon Public Broadcasting, does not ignore the Turkish government's denial, or its repression of dissidents in Turkey who try to expound another point of view. One of the film's merits is that it tries to explain both the circumstances that led to the atrocities of 1915 and the reasons why Turkish officials are still so determined to keep that period unexplored. "There is a feeling that Turkey would be putting itself permanently in the company of Adolf Hitler," Samantha Power, the author of "A Problem From Hell: America and the Age of Genocide," says. "That same stain would envelop Turkey as it seeks, of course, to be a major player on the international stage."
Several of the experts in the film, including Turkish scholars, argue that because Turkey is seeking admission to the European Union, its leaders will eventually have to bend to international will and acknowledge responsibility. But official Turkish denial remains fierce, and intellectuals and even well-known writers like Orhan Pamuk can still be brought to trial for mentioning the treatment of Armenians and Kurds.
The documentary, which is partly narrated by Julianna Margulies, Ed Harris and others, includes rare clips of Turkish scholars acknowledging the anti-Armenian campaign as genocide as well as Turkish villagers recounting their ancestors' stories about participating in the killings. "They caught Armenians and put them in a barn and burned them," a man in a town in eastern Turkey says to an interviewer. There are also shots of ordinary Turks who insist their ancestors were incapable of that level of barbarity.
Mostly, however, the film painstakingly makes the case that a genocide did take place, relying on archival photographs, victims' memoirs and the horrified first-hand accounts of diplomats, missionaries and reporters. The forced deportations and killings did not take place unnoticed — public figures like Theodore Roosevelt and H. L. Mencken spoke out about the horrors. In 1915, The New York Times published 145 stories about the systematic slaughter of Armenians.
Even after World War II, the fate of Turkey's Armenian population was high on the list of crimes against humanity. The film includes a clip from a 1949 CBS interview with Raphael Lemkin, a law professor who in 1943 coined the term genocide. "I became interested in genocide because it happened so many times," he tells the CBS commentator Quincy Howe. "First to the Armenians, then after the Armenians, Hitler took action."
---
PBS Panel on Armenian Genocide Stirs Protest
Broadcaster Defends Inclusion of Deniers of Mass Killing by Turks
By Paul Farhi
Washington Post Staff Writer
Thursday, February 16, 2006; C01
Thousands of Armenian Americans are protesting the Public Broadcasting Service's planned panel-discussion program about Turkey's role in the deaths of Armenians during and after World War I.
The 25-minute program has generated an outcry because the panel will include two scholars who deny that 1.5 million Armenian civilians were killed in eastern Turkey from 1915 to 1920.
The program is scheduled to air April 17, a week before the annual Armenian Remembrance Day commemoration, and will follow a one-hour documentary, "The Armenian Genocide," which describes the events surrounding the deaths, as well as denials of complicity by successive Turkish governments.
Armenian Americans have publicized an online petition that asks PBS to drop the discussion program. As of last night, more than 6,000 people had electronically added their names to the petition, making it one of the largest organized protests of a PBS program.
"We strongly feel that debating the Armenian Genocide is akin to arguing about the Jewish Holocaust in order to project a sense of balance," the petition reads. "Would PBS ever contemplate such a program?" Noting that the film already includes Turkish denials, the petition concludes that the panel discussion "would serve to emphasize the Turkish state's official position and undermine the non-political nature of [PBS] programming."
The events surrounding the deaths of Armenians in Turkey by factions of the ruling Ottoman Empire remain emotionally charged and politically contentious. Armenians have long contended that the killings were government policy designed to suppress an Armenian uprising and Armenian support for invading Russian forces. Armenians also call it the 20th century's first genocide, a view that has gained acceptance among Western scholars and governments.
Successors to the Ottoman Turks have acknowledged that there were a substantial number of Armenian deaths -- Turkish estimates range from 300,000 to 600,000 -- but Turkey maintains that the deaths resulted from warfare, starvation and epidemics that affected all segments of Turkish society.
The controversy continues to resonate in Ankara and Washington. Turkish prosecutors last year indicted the country's best-known novelist, Orhan Pamuk, on charges of denigrating the country's national identity after he asserted, in an interview with a Swiss magazine, that Turkey was denying the extent of Armenian killings. His indictment became an issue with European countries that are considering Turkey's application to join the European Union; the charges were dropped this month.
For decades, U.S. administrations have dealt tentatively with the issue, not wishing to offend Turkey, a key political and military ally. In its Remembrance Day message last year, the Bush White House noted "the forced exile and mass killings" and "horrible loss of life" of Armenians but avoided referring to the events as genocide.
As the title implies, "The Armenian Genocide," a documentary by New York filmmaker Andrew Goldberg, is unequivocal in its take on history. PBS agreed to air the film -- whose $650,000 budget was partly funded by Armenian Americans -- without major changes, said Goldberg and Jacoba Atlas, a top PBS programming executive.
In the course of reviewing rough cuts of the film, however, Atlas said PBS officials agreed to add the panel discussion to explore other views, particularly the question of why denial exists. "It's a terrific documentary, and while we believe [the genocide] is settled history . . . you still get dissenters," she said in an interview yesterday. "We said, 'Let's approach this head-on and say why this is still contentious.' We thought it was a good thing to have both sides talking to each other. We felt the more you can shed light on an argument, the more the truth becomes clear."
"This remains a contentious piece of history," Atlas added. "There are just questions around it. Rather than have those questions dismissed, it seemed like a good idea to have a panel and let people have their say."
Atlas acknowledged that such an approach is rare for PBS and said that the Alexandria-based service has not had other panels to discuss opposing views of documentaries during her five-year tenure. She declined to say whether a documentary about the Holocaust or about the genocides in Rwanda or Cambodia would require a similar post-documentary discussion. "Those are hypothetical questions," she said.
The panel discussion, hosted by NPR's Scott Simon, was taped last week. Colgate professor Peter Balakian, an adviser on the documentary, and University of Minnesota professor Taner Akcam supported the film's view. University of Louisville professor Justin A. McCarthy and Turkish historian Omer Turan offered an alternative perspective.
Balakian, an Armenian American who wrote the best-selling "Tigris Burning: The Armenian Genocide and America's Response," said that he did not want to participate in a panel with "two bona fide deniers" but that he felt "backed into a corner" by PBS. If he had boycotted the panel, he said, it would have jeopardized the broadcast of the documentary, which Balakian called "a major and comprehensive piece of work."
Goldberg, the filmmaker, said he did not think the panel was necessary, "but I didn't fight it. It wasn't up to me and I had nothing to do with its production."
In an interview yesterday, McCarthy said the history of the period is complex and does not lend itself to simple judgments and labels. He said that he could not find evidence of 1.5 million Armenian deaths. He also said 3 million Turks died during the same period.
"If saying that both sides killed each other makes me a genocide denier, then I'm a denier," he said.
Titling the documentary "The Armenian Genocide," he said, "is a false description of a complicated history."
PBS said it is up to its 348 member stations to decide individually whether to air either the panel discussion or the documentary.
---
PBS-TV CESITLI EYALETLERDE ERMENI BASKISI ALTINDA PANEL PROGRAMINI
KALDIRDI - ASAGIDA PROTESTO ICIN YAZILMIS CESITLI E-MAILLER BULACAKSINIZ-
PBS TV E-MAILLERE COK DEGER VERMEKDE - LUTFEN BIRINI SECINIZ VE
POSTALAYINIZ - VEYA SIZIN YAZDIGINIZ E-MAILI BIZE VE PBS'E ILETINIZ ---

TURKISH FORUM AILESI ACIL KAMPANYAYA DEVAM
Armenian-Americans Outraged By Panel Discussion On genocide



A panel-discussion about the Armenian genocide to be aired on U.S. television has prompted protests among Armenian Americans outraged by the presence of two genocide deniers on the program.

The panel discussion is to be aired by Public Broadcasting Service (PBS) on April 17 following a one-hour documentary -- "The Armenian Genocide" by Andrew Goldberg -- which describes the killing of up to 1.5 million Armenians by the Turks in the final years of the Ottoman Empire.

The four panelists invited to discuss the issue include Justin McCarthy, a University of Louisville professor, and Omer Turan, a Turkish historian. Both men question whether the 1915 mass killings could be classified as genocide. PBS said it had invited the two scholars in a bid to offer an alternative viewpoint and encourage discussion.

"We don't step back from controversy just because it's controversial," Lea Sloan, vice president of media relations at PBS, told AFP. "In this case, because there has been such heated debate about the topic, we thought that further debate could help illuminate the issue." She said the network had no plans to cancel broadcast of the 30-minute panel discussion.

Armenian Americans say McCarthy's and Turan's presence on the show amounted to inviting Holocaust or civil rights deniers to air their views. "One would think that if there was a documentary on the Holocaust or civil rights movement, that there wouldn't be a follow-up panel discussion where you have Holocaust deniers or Ku Klux Klan members sitting down and discussing these issues," Elizabeth Chouldjian, spokeswoman for the Armenian National Committee of America, told AFP.

Chouldjian said while Armenian Americans welcome the airing of the documentary, the community felt offended that two deniers of the genocide would be given a platform on national television. "If somebody wants to do an analysis of why denial of genocide occurs in general and bring in the case of the Armenian genocide, that's certainly understandable," Chouldjian said. "But bringing in deniers ... is ludicrous.

"It will be misleading the viewing public on this topic and it's a disservice to viewers."

An online petition calling on PBS to cancel the broadcast has gathered nearly 7,000 signatures and Armenian Americans, estimated to number 1.5 million, are being urged to write letters of protest to PBS.

The U.S. administration has consistently stopped short of callings the killings a genocide. However several other countries, including France, Canada and Switzerland, recognize them as such.