WASHINGTON, Jan. 17 - House Republican leaders laid out a proposal on Tuesday to rewrite House rules governing lobbying as they moved to contain the political damage from an election-year scandal over undue influence and access afforded to lobbyists.
In the first of a series of competing packages of legislation, Speaker J. Dennis Hastert called for a ban on Congressional travel underwritten by outside groups, tougher restrictions on gifts and favors and the elimination of privileges for lawmakers turned lobbyists in response to three bribery and corruption convictions that have reached into the House. Inquiries related to those criminal acts are continuing.
Congressional Democrats plan to issue their own overhaul plan Wednesday, and Senate Republicans are preparing one as well in a game of one-upsmanship touched off by guilty pleas to corruption charges by the high-powered lobbyist Jack Abramoff and an associate and a House Republican's admission to taking bribes.
The House and Senate are responsible for setting the rules that apply to each chamber, but in the past have enacted these types of reforms through a combination of rules changes and legislation to give them the force of law.
Past furors like the House Post Office scandal and sensational revelations about lobbyist paid travel, suspect book deals and speaking fees have sparked previous rounds of reform. But they are often undone by lack of staff members to police them and have been riddled with loopholes that allow lawmakers and lobbyists alike to find ways around them. Some fear that could be the case this time if Congress is not vigilant.
Though the plans differ, all take aim at the opportunities available to lobbyists to provide lawmakers with benefits like luxury travel, expensive meals, scarce tickets to entertainment events, fund-raising help, contributions to pet causes and other little-scrutinized forms of financial and political support.
"I think members can probably function very well in this town without having to go out to lunch with a lobbyist or to dinner with a lobbyist," Mr. Hastert said. "They can pay for it for themselves."
Democrats plan to push ahead with their own proposals, saying they are skeptical that the Republicans who control the House and Senate will be able to clean up a system they have presided over.
"It is like asking John Gotti to do what he can to clean up organized crime," said Senator Harry Reid of Nevada, the Democratic leader.
Like the other plans, the overhaul by Congressional Democrats would double to two years the time before a former lawmaker or senior aide could lobby Congress. Congressional Democrats would institute new quarterly lobbying reports with extensive new requirements for disclosure. They would also prohibit lawmakers and aides from pressing private entities to make employment decisions on the basis of political affiliation, a provision aimed at the Republican K Street push to force the hiring of Republicans by lobbying firms and trade associations. Senate Republicans are drafting a plan that, according to a party memorandum, would end travel subsidized by outside groups, ban gifts, reduce the ability of senators to stall legislation and nominations anonymously through "holds" and prohibit spouses and relatives of senators from lobbying the Senate. The last has become a growing practice in recent years.
Advocates of tighter rules say the frenzied approach to overhauling the rules could produce real changes in the way lawmakers and lobbyists interact if Congress follows through.
"If you want to be serious about it, there has to be some enforcement mechanism," said Roberta Baskin, executive director of the Center for Public Integrity, a nonprofit group that tracks money in politics.
Some leading lobbyists, however, say Congress is in danger of going overboard and could cut off the ability of the public to advocate on Capitol Hill.
"We cannot lose sight of the fact that we have had one lawmaker and two lobbyists plead guilty," said Robert Livingston, a former House Appropriations Committee chairman who is now a Washington lobbyist. "The fact is, we have reformed campaign finance at least four times since 1974, and each time it has gotten progressively worse. I am worried we are going to do the same to lobbying."
Should Congress agree on a lobbying package this year, it would be the first extensive revision since a 1995 measure limiting gifts and requiring new lobbying disclosure.
Mr. Hastert and others acknowledged Tuesday, however, that it would not be easy to enact such legislation. He and others said that scores of House Republicans who participated in a 90-minute conference call Tuesday expressed misgivings about various elements of the House Republican approach, including the travel ban and the rights of former members.
In addition, House Republicans also intend to use the legislation to put new campaign spending and reporting restrictions on independent advocacy groups that have been seen as beneficial to Democrats, a move that could spark resistance.
"It's going to take some leadership and some pushing and pulling," Mr. Hastert said.
Representative John Shadegg of Arizona, a candidate for Republican majority leader, immediately objected to the travel ban, saying it could deprive members of crucial educational opportunities. The leadership position came open in part because of the links between Mr. Abramoff and Representative Tom DeLay of Texas.
Travel has become a chief focus since Mr. Abramoff was accused of using third-party groups to provide lavish trips for lawmakers, who said they were unaware that he had paid for the trips. Dozens of other lawmakers have had to file new disclosure reports to account for their journeys over the years while explaining the educational purposes of high-season trips to popular resorts.
Representative David Dreier, the California Republican who is the chairman of the Rules Committee and has been assembling the House plan, said he hoped to take a comprehensive proposal to the House floor by March.
But Mr. Dreier said the House would act as soon as it reconvenes Jan. 31 on a few elements of the plan, including provisions that would bar former lawmakers who are now registered lobbyists from being on the House floor or using a private gym where they have ready access to their old colleagues.
"We do know that members have raised concern about this issue," Mr. Dreier said.
Fred Wertheimer, president of the group Democracy 21 and a longtime advocate of tighter Congressional ethics rules, said he saw promise in the proposals, but he cautioned that the final judgment would await the details and the mechanisms to hold members accountable given a near collapse of the House ethics review.
"The real battle lies ahead," Mr. Wertheimer said, suggesting that Congress should consider a new professional office of public integrity to enforce the rules.
But Senator John McCain, Republican of Arizona and the author of his own Senate plan, said Tuesday that he did not want to see a new Congressional entity created. Greater disclosure, Mr. McCain said, could ultimately bring public and political pressure to bear.
"If there are issues, my initial response is, it could be taken care of by the ethics committees and/or the Justice Department, in case of criminal activities," he said.
---
The New York Times
Democrats Claim a Better Idea on Controlling Lobbying
WASHINGTON, Jan. 18 - Congressional Democrats proposed a lobbying overhaul on Wednesday that they said far exceeded new Republican proposals in curbing the influence of moneyed special interests on Capitol Hill.
"Today we as Democrats are declaring our commitment to change, change to a government as good and as honest as the people that we serve," said Senator Harry Reid of Nevada, the Democratic leader.
Surrounded by dozens of House and Senate colleagues in the Great Hall of the Library of Congress, Mr. Reid and fellow Democratic leaders blamed close ties between lobbyists and majority Republicans for health care, energy and other legislation that they called too friendly to industry at the expense of the public.
"The Republicans have turned Congress into an auction house, for sale to the highest bidder," said Representative Nancy Pelosi of California, the House Democratic leader. "You have to pay to play. That's just not right."
The high profile that Democrats gave to unveiling their ethics plan made it clear that the party intended to turn its assertion of widespread Republican corruption into a theme in the fall midterm elections. It also showed that Democrats did not intend to strike a deal easily with Republicans on an ethics overhaul.
Republicans mounted a fierce counteroffensive. They recalled past Democratic resistance to proposed tightening of ethics rules, circulated Library of Congress regulations saying the library should not be used for political events and accused Mr. Reid of ties to the lobbyist Jack Abramoff and of using his Senate office to prepare political documents.
"Does Mr. Reid think that using an official government office for political purposes is ethical?" asked Brian Nick, a spokesman for the National Republican Senatorial Committee.
Representative John A. Boehner, Republican of Ohio and a candidate for House majority leader, said Republican misconduct was nowhere near the level engaged in by Democrats when they ruled the House before being swept out in 1994.
"When I hear Democratic Party leaders throwing around terms like 'culture of corruption,' I have to think, You oughta know," he said in a statement.
The National Republican Senatorial Committee distributed a 24-page report on what it said was Mr. Reid's hypocrisy on lobbying and special interests and noted that a former aide to Mr. Reid had joined a law firm with Mr. Abramoff, whose guilty plea to corruption charges this month sparked the drive for new lobbying rules. Mr. Reid and his allies dismissed the claims as political spin, with Senator Charles E. Schumer, Democrat of New York, saying, "Jack Abramoff is a Republican scandal and a Republican crisis."
In a scene reminiscent of the signing of the Contract With America, which Republicans promoted in their election campaign for a majority a decade ago, Democratic leaders concluded their rally by signing what they called the "Democratic Declaration of Honest Leadership and Open Government."
Democrats said that in contrast to the Republican approach, their proposal would end a Republican practice of pressuring lobbying firms and advocacy groups to hire on the basis of party affiliation.
It would also require lawmakers and senior officials to disclose when they were negotiating for jobs as they prepared to leave Congress, a proposal tied to the fact that a legislative author of the Medicare drug bill later became head of the drug industry lobbying arm. It would ban gifts to lawmakers from lobbyists.
Democrats stopped short of an outright ban on travel paid for by outside groups. They would allow educational nonprofit groups to underwrite trips for lawmakers and senior aides. Though the details of the competing plans remain uncertain, Republicans have indicated they would ban all travel paid for by private organizations.
Congressional aides said that House Democratic leaders were ready to jettison travel completely but ran into resistance from Senate Democrats who wanted to retain the ability to go on trips sponsored by educational foundations.
According to aides preparing the bill, Democrats would also put new disclosure rules on travel aboard private aircraft but would not take the step sought by some lawmakers to require members of Congress to pay the actual costs of such trips rather than reimbursing flight providers for the equivalent of first-class air fare.
Ethics watchdogs commended the Democratic effort but continued to raise doubts about the ability to hold lawmakers accountable to any new standards. "Both of the parties' proposals fail to get at the heart of the problem, which is a complete lack of enforcement of the rules in Congress," said Chellie Pingree, president of Common Cause.
Some lawmakers said they thought Congress was overreacting to the lobbying scandal with an excess of new rules and requirements.
"Now we're going to say you can't have a meal for more than 20 bucks," said Senator Trent Lott, Republican of Mississippi. "Where are you going, to McDonald's?"
---

Washington Gearing up for Lobbying Reform
By Peter Fedynsky VOICE OF AMERICA
Washington, D.C.
18 January 2006
The U.S. Congress is seeking to reform the nation's lobbying laws in the wake of a Capitol Hill influence peddling scandal that has already led to a guilty plea by once powerful lobbyist Jack Abramoff and may lead to corruption charges against several lawmakers.
Lobbying is a Business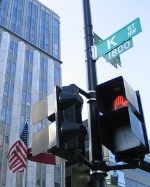 K Street Washington D.C.
K Street in downtown Washington is sometimes referred to as America's fourth branch of government, because the headquarters of the nation's most influential lobbying firms are located here. Rent is expensive and the lobbyists themselves are well paid. Their fees represent a portion of the two billion dollars spent each year by the lobbying industry.
Alex Knott of the Center for Public Integrity, a Washington watchdog group, says those who pay the expenses consider it money well spent. "It works like a PR campaign, even if they don't get any legislative action. Let's take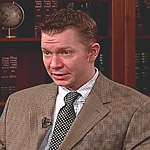 Alex Knott of the Center for Public Integrity
Lockheed Martin (Aerospace Company), for instance," said Alex Knott. "They've spent 54 million dollars since 1998. Meanwhile, just from the Department of Defense, between 1998 and 2003, they've received 94 billion dollars -- 74 percent of which were no-bid contracts. That goes a long way. Basically it equates to being pennies on the dollar."
Lobbyists represent a very broad spectrum of legitimate interests, from defense contractors such as Lockheed Martin to teachers and even beekeepers. They are hired for their ability to meet and persuade government officials to pass laws, award contracts or reduce certain kinds of taxes on behalf of their clients.
Lobbyist Jack Abramoff, however, admitted to not only to bribing public officials, but also defrauding his own clients, American Indian tribes who hired him to protect their interests in casino gambling. Abramoff even represented different tribes who competed for the same business.
Fred Wertheimer, President of Democracy 21, an organization that promotes civic values, says such scandals are periodic occurrences in America. "When that happens, it's extremely important that those people are held accountable, that you get a new set of rules to address the problems," said Fred Wertheimer. "When we do that, we bring the problems under control. But then the cycle begins again. People try to press the envelope, see how far they can go."
Reform Proposals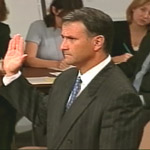 Jack Abramoff, lobbyst indicted for bribery
There are several reform proposals from both parties in Congress that address lobbying violations exposed by the Abramoff scandal. The reforms would mandate timely disclosure of contacts between lobbyists and public officials, ban congressional trips paid for by lobbyists and lengthen the time former members of Congress must wait before becoming lobbyists themselves.
The U.S. Constitution protects the fundamental right of companies and individuals alike to assemble as they wish and, in the words of the First Amendment, "to petition the government for redress of grievances," in other words, to lobby.
David Boze, Executive Vice President of the Cato Institute think tank in Washington, says lobbying gives the public a voice in the decisions of government. "But what it turns into when you have a government that puts three trillion dollars on the plate, it turns into a mad scramble for that money," said David Boze. "So most organizations in Washington; you walk down K Street, and look at the names of the lobbies. Most of those people are here not because they want a redress of their grievances, but because they want a piece of the pie."
Mr. Boze notes that unscrupulous lobbyists use any means necessary to get more than they deserve.
Government Promises Swift Action Against Corruption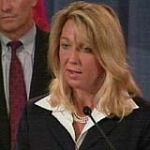 Alice Fisher, U.S. Deputy Attorney General
This includes bribery, which implicates government officials who take them. "Government officials and government action are not for sale", said Alice Fisher, the U.S. Deputy Attorney General, and added that the Justice Department will aggressively investigate and prosecute cases like Abramoff's, which have a devastating impact on the public's trust in government. "We will not shy away from that responsibility no matter where the trail leads," said Alice Fisher.
That trail is expected to lead to Congress. Jack Abramoff, in a deal with prosecutors to get a reduced sentence, is likely to point out lawmakers who accepted his bribes.
Fred Wertheimer says Washington corruption scandals usually affect the majority party. "That doesn't mean there are no efforts to influence the minority parties, but the principle efforts almost always involve the party in power, the party or the individuals from that party who can deliver results," says Wertheimer.
Today, that means the Republican Party. In the 1980s, it was the Democrats in Congress. Several were arrested after they accepted bribes from FBI agents posing as Arab oil sheikhs.
The Cato Institute's David Boze says honest lawmakers are those who come to Washington to serve the people or to advance a specific idea. He says those who fall victim to material temptations lack the strength to do what is right. "It's moral weakness, but it's also specifically philosophical weakness. If you're not here for any particular purpose, then you're going to find yourself very comfortable taking dinners from lobbyists," said David Boze.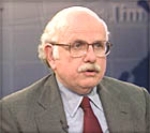 Fred Wertheimer of Democracy 21
Fred Wertheimer of Democracy 21 says it is human nature to take advantage of any system, but that voluntary respect for the law as well as strong enforcement are the best ways to keep corruption to a minimum. "Another key to complying with rules is an understanding that the rules are going to be applied to everyone in the same way; that there is not one set of rules for the powerful and the wealthy, and another set of rules for everyone else," said Fred Wertheimer.
Jack Abramoff and those he allegedly bribed are not the first, nor are they likely to be the last, corrupt individuals in Washington. Having pleaded guilty, Abramoff will be sentenced to considerable time in jail. If prosecutors find corroborating evidence against any politicians he names, they too could lose the freedom and power they once enjoyed.
This story was first broadcast on the English news program,VOA News
---
CHRONOLOGY OF EVENTS LEADING UP TO REFORM DEBATE IN U.S. CONGRESS

News about Jack Abramoff (including commentary and archival articles published in The New York Times)